Memories in Zambia
Visit of the ambassador of Zambia to our stock yards
Upon request of the Hospital Union in Zambia, the ambassador of Zambia visited to our stock yards to see the vehicles to be chosen.
He asked us a lot of questions about buses, micro buses, minibuses, trucks and sedan cars.
It sometimes happens that payment made but no vehicle arrived!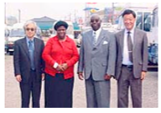 At Maysair Hotel in Kenya.
It was a group of Mr.Muskari Kombo,a minister of the state, Kenya.
One of his attache told me to take a commemorative picture with him so I did it without any hesitation.
The minister immeidately knew that I was a Japanese and became so friendly to me.
As frequently reported by the Japanese press. I strongly felt that Kenya and Japan are good friends.

"MUMBWA TOWN
Mr. Masama who lives in a town of neither telephone nor electricity,
270 kilo meters away from Lusaka and he runs a big farm and comes to Lusaka once a month to buy his necessities.
I don't Know why he always carries an umbrella. Might be the weather in Zambia changeable?
His shopping is quite rough.
This time he bought with us two Toyota Corona Diesels and two Honda motor bikes CB400.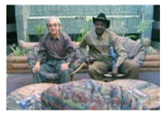 Japanese Used Truck
Proud of their truck of 6 tons bought from Auto Galaxy!
They will modify its bed of consignor to be loaded more corn and wheat.
People work hard! We will buy another one soon!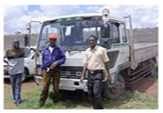 Japanese Used Vehilces
A good quality micro buses bought from Japan. a used car dealer, Auto Galaxy (second one from the left and the second one from the right) "29 seater, Mitsubishi Rosa" runs through the country of Zambia to be as a country's means of transportation.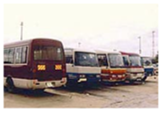 Bus Terminal in Lusaka.Capital City of Zambia
On December 30th,2003.after buying a lot of gifts like Japan they will go back to their families by long distance bus for spending New Year's Holidays.
Their destination might be either Lubumba or Kafue. National roads are clean and safe.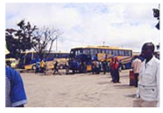 Kazumasa Mizue
President
Auto Galaxy Co., Ltd.