Company Profile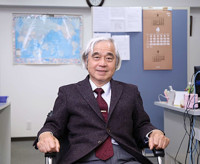 Auto Galaxy was established in 1990 as the premier supplier of high quality used Japanese vehicles. Over the last 21 years of business, we have had many customers all over the world from Africa, Southeast Asia, Central America, and Oceania. Over the last 15 years we have come to specialize in microbuses, minibuses and driving school vehicles. No other company in Japan can offer the same specialization. We have a dept(stock yard) in Saitama Prefecture near Tokyo where always have more than 60 vehicles in our stock. We are confident that we have the right vehicle for you.
Since SEP.2011, we have started microbus rental car business in Japan.
Company Outline
COMPANY NAME
Auto Galaxy Co., Ltd.
CEO
Kazumasa Mizue
HEAD OFFICE
2F 2-30-2-202 Sakae-cho, Higashimurayama-shi, Tokyo, Japan 189-0013
TEL:+81 42396 8118 FAX:+81 42396 5828
SAITAMA AUTO CENTER
2-4-47 Nakano, Niiza-city, Saitama-Pre, Japan 352-0005
TEL:+81 48480 1005 FAX:+81 48480 1006
ESTABLISHED IN
May, 1990
CAPITAL
20,000,000 yen
NO. OF EMPLOYEES
10
TYPE OF BUSINESS
Export of used microbuses, minibuses, driving school vehicles and LPG vehicles
SALES
350,000,000 yen in 2002
CORRESPONDENT BANKS
Tokyo Mitsubishi Bank Shinjuku Chuo Branch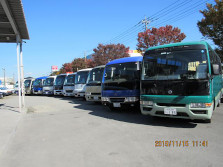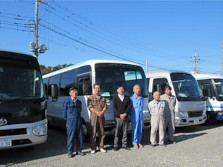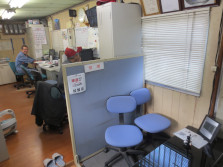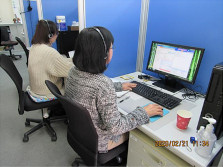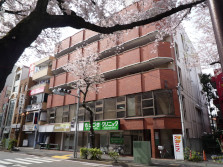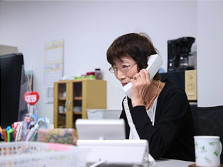 Our world wide customers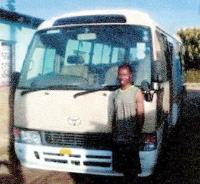 We have received a letter from Zambia.
Mr.Nchimunya, 24 years old good looking business man said "Thank you very much Auto galaxy for a smooth transaction that we have done. I look forward to do more business with you in the future".
We are always happy to see our customer is smiling when he or she receives the vehicle from Auto Galaxy, Japan.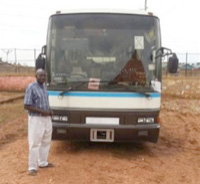 Our new customer in Uganda
We have received a letter from Uganda. Our new customer Logistics International has a plan to establish themselves in tourism. They like the good quality of Japanese make; such as Isuzu and Mitsubishi buses. We at Auto Galaxy promise to provide more buses in the future. We hope and believe this company will grow with the developing human resources and infrastructure.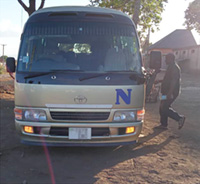 Dear Sir I am pleased to inform you that you sold us the best Toyota Coaster.
I have bought five of them for this customer but according to him this bus was the best. I also congratulate you for the special service you gave us, you are very reliable, trustful and all the time you have updated me. Thank you again and please keep it up! will always recommend your name to other customers interested to buy cars from Japan, and will not hesitate to visit your website all the time to see if you have other good cars for my customers.
The person you see near the car is the owner of this Mini Bus. He is proud of this bus and it is the best he has bought among the five he has.
We thank you again you have supplied the best Bus I would say.
Thank you very much.
From Mr.O Natai, vehicle importer in Tanzania 2022/12/20
Auto Galaxy's Used Vehicle sourcing route. Why our FOB prices always competitive ?
There are a number of traders in Japan
We Auto Galaxy procure microbuses and mini buses mainly from Japanese driving schools, hospitals, hotels, restaurants as regular basis. As for microbus, there are a number of traders. Some of them purchase microbus from auction and earn transaction fee from the request of next-door hotel. Someone makes contract with local town or school and lends microbus for them. Someone earns small money to buy microbus direct from customer and sell through auction. Someone runs microbus trading business without own stock yard. Someone has established export route to Africa or Latin America emerging countries. Extremely there are net brokers who do not have their own stock vehicles and trade with only pictures of microbus as if they have those vehicles in stock.
We Auto Galaxy is completely different from those traders. On top of the difference, we have over 50 years automotive business experiences not only Japan but also worldwide.
We buy direct from customers not through auctions
We sometimes compete with above traders and sometimes deal with those traders and we expand our market. We have actual stock vehicles and run microbus rental car business. Also we buy microbus direct from customers and deliver microbus with local number plate to customers. At this time, we have almost 50,000 active customers in Japan. And they come to our place to sell their microbuses to us directly. Then we can purchase better condition vehicles with competitive prices than auctions. On the other hand, sometimes we sell bigger mileage vehicles at auction and maintain reasonable and good condition stock vehicle level.
We own our service staffs and maintenance factory
We also export microbus directly to overseas customers and dealers. Then we receive all available information from not only Japanese market but also overseas countries. We are confident we can meet your specific requirement through our past accumulated experience. We also have wide variety of driving school vehicles such as Toyota Comfort, Toyota Prius, Nissan Bluebird, Mitsubishi Lancer, Honda Domani, Honda motor bike CB400 etc. Those vehicles have low mileage and easy to delete passenger side brake system and mirrors and make it to taxi use.
Auto Galaxy's Worldwide Business partners
Mitsubishi Fuso Truck and Bus company
UD Trucks
Tokyo Toyota Motor Sales Company
Tokyo Hino Motor Sales Company
Tokyo Nissan Motor Sales Company
Nippon Car Solutions Co., LTD
Sumitomo Mitsui Auto Service
Hitachi Auto Service Co., LTD
Orient Corporation
Yakult Trading Co., LTD
Tokyo Gas Auto Service Co., LTD
Kyoei Trading Company
Suminoe Textile
Everys Corporation
Japan Air Transport Co., LTD
Proto Corporation
Fabrica Communications
Used vehicle Export Association
The Keihin Co., LTD
Armacup Japan K.K.
Tosho Express
Fuji Bus Trading Co., LTD
Chuetsu Bus Sales Co., LTD
TAU
SBT
Zero
Isuzu Linex
Logico Co., LTD
USS, Arai, JU and other auctions
Galaxy Seat Transport Company (Zambia)
New Site Travel (Cambodia)
Exported Countries
New Zealand
Kenya
Tanzania
Uganda
Zambia
Mozambique
South Africa
Myanmar
Cambodia
Laos
Viet Nam
Solomon Island
Jamaica
Chile
And other 44 countries and buyers