Memories in Cambodia
Buntheng Orchard
Parental home of Mr. Buntheng who is now studying in Japan.
Owner of the Orchard is his father, Mr. Cheav, Buntheng
who recently retired from a government office and bought a farm
land of 35 hectares five years ago, planted thousands of Mango
and Jack Fruit trees, seems enjoying his retired life reluctantly.
We were treated with Cambodian foods at his guest house on hill in
the orchard. Despite Cambodian weather exceeding 30 C everyday,
being spent with a comfortable time.

Sihanouk Ville (Port of Kampong Som )
International Sea Port was constructed by Japanese ODA,
There are several beautiful beaches in Sihanouk Ville
but the most popular and developed one is O Chheu Teal beach.
Resort in nature and having delux hotels, reasonable guest houses
and restaurants, etc. It is safe, it's a kind of city would like to live a few months.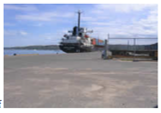 Bus Terminal (Phnom Penh )
From here long distance buses go to Siem Reap, Sihanouk Ville and
Ta Kev and its ride fare differs from US$3 to $5 equivalent local
currency, depending on seasons and a kind of bus you ride.
Some buses even provide meals and washing hot towels to passengers.
At any rate, travelllers are not in hurry.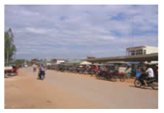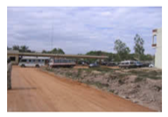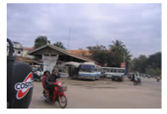 New Sai Travel (Siem Reap )

A trave company uses our exported buses are operated and it has
many Japanese staff. They are very kind and providing us with delicate
service to any traveller. If you are thinking about a tour to Cambodia.
Why not consult with them any time.
E-MAIL: saicam@online.com.kh TEL: 023-362-590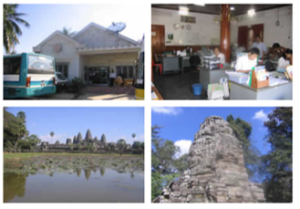 Kazumasa Mizue
President
Auto Galaxy Co., Ltd.