The Japanese Hot Summer Part2
 Hot summer!!

Until now, every offices and classrooms are cooled down by air-conditioning and we had very comfortable way of life. However, this summer is different. We had a big earthquake on 11th March, the nuclear power plant in Fukushima was hit by a kind of the tsunami which we never had before. It has been broke down since then and we have had electrical power shortages.
This summer, all households and companies must cut down the use of electricity to avoid a major black out.
Before we had air-conditioning in Japan, we just coped with the heat. For example, we used wind chimes that make us feel like the wind is blowing. This is all so the same as the sound of river water and the song of birds. These kinds of natural sounds make us feel more relaxed.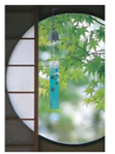 Wind Chime
We have many firework festivals all over Japan in summer time. A lot of people go and enjoy the great feast of fireworks. We have these firework displays on beaches and next to rivers. It feels a lot cooler at these places than in the city.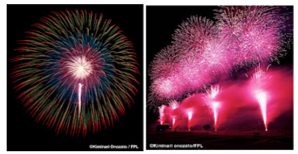 Fireworks
We have foods for summer time too. A typical summer food is water-melon.
Before we had refrigerators, we put the whole water-melon in the cold water of a well or a spring. We enjoy putting a little bit of salt on the watermelon to make it sweeter.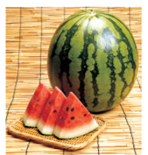 Watermelon
The shaved ice with syrup flavored with melon, lemon, strawberry etc make hot bodies cool and forget the heat of summer whilst wearing summer wear such as 'Yukata' made with good quality a Japanese silk.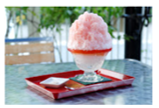 Shavet ice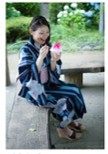 with Yukata
We should not to forget 'Hiyashi-somen'. It is a kind of thin noodle boiled and then cooled by ice water. Japanese love it with tomatoes, cucumbers, water-melons, cherries and etc. Cooled 'Hiyashi-somen' is the best summer food for hot summer in Japan.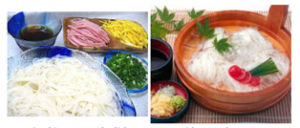 Hiyashi-somen and relish/somen with cucumber
We have a traditional way to eat 'Hiyashi-somen' and called 'Nagashi Somen',
'Nagashi Somen' is when somen is put in flowing water in a bamboo gutter. You catch the somen with chopsticks, dip it into 'somen-tsuyu', kind of soup for somen, and eat it. 'Nagashi Somen' is one of outdoor entertainments and you will have fun time and also cool taste of summer.

Nagashi somen/The outdoors
We used to have a variety of ways to be cool in hot summer in Japan since ancient times.
We must reduce electricity consumption by 15 % this year. However, that is not the final solution. We will, and shall find the new energy, instead of depending on nuclear power. There are some new way of making energy by earth-heat, wind, solar and ocean waves. In the near future, we Japanese will create the new clean source of energy that will shake the whole world.
We are used to disasters in Japan. We have become resilient and know how to overcome such problems.


Kazumasa Mizue
President
Auto Galaxy Co., Ltd.