The Japanese Hot Summer Part1
Summer in the country of Japan, a nation surrounded by oceans on all four sides.

Out of the 47 prefectures that make up Japan, only 8 are landlocked.
(群馬県・栃木県・埼玉県・山梨県・長野県・岐阜県・滋賀県・奈良県の8県。)
Schools in Japan closed for over 40 days as a summer vacation and most people working in the private sector received between 5 to 10 holidays.
The summer vacation offers us a chance to visit family in our home towns or take trips. Of cause, due to the high volume of traffic on the highways, traffic is often slowed to a crawl. It can take between 6 and 8 to cover distance that would normally take one hour.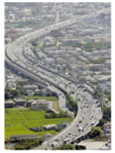 heavy traffic
Naturally, most families and young people head to the beach. Most people rent beach huts or lay sheets down on the beach.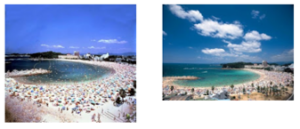 Beach
There is always beer and traditional Japanese summer foods such as 'Yakisoba' and 'Oden'.

Beach hut/Warnings
Everyone has a great time playing with beach balls or floating around in the water in boats and rubber rings. As the beach is always so crowded, it's impossible to reach the water without stepping on the sheets that other people have put down. Young people love to sunbathe and get a tan. After getting back to work after the holiday, people love to show off their tans as proof that they enjoyed their summer vacations.

TO BE CONTINUED…..

Kazumasa Mizue
President
Auto Galaxy Co., Ltd.