Hina Matsuri The Japanese "Doll Festival" for the girls
Hina Matsuri takes place on 3rd of March and celebrates "Girls' Day". This is the day families pray for the happiness and prosperity of their girls and to help ensure that they grow up healthy and beautiful. The celebration takes place at every home which has daughters and meant to ward off evil spirits from girls.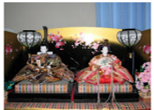 A male doll and the female doll
A display of dolls.
The family will also decorate the display with hishi-mochi, sweet liquor, and peach flowers.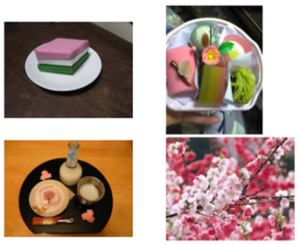 Hishi-mochi・Sweet liquor・peach flowers
However, few houses these days have enough space to place Hina dolls so many just decorate their homes with hishi-mochi, liquor, and flower. All these decorations must all be cleaned away on the 4th of March. Failure to do this will mean that the family's daughters will not find husbands with later in life.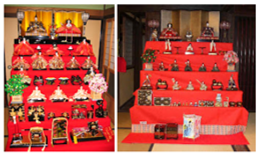 A display of dolls
1)Hishi-mochi
These are diamond-shaped mochi arranged in three layers. The layers are different colors, pink, white and green going from top to bottom. This represents the image of peach flowers sprouting up through the snow.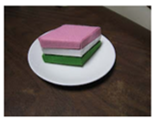 Hishi-mochi
 2)Sweet liquor
For Japanese people, the combination of re and white means happiness. White, sweet liquor is placed around the house next to the red peach flowers to complete this combination and create an atmosphere of happiness.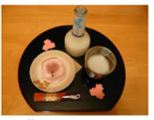 Sweet liquor
Chirashi-sushi and soup of the clams are well edible by events of the Doll's Festival.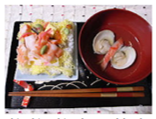 Chirashi-sushi and soup of the clams
Kazumasa Mizue
President
Auto Galaxy Co., Ltd.